Cloud VPS
Affordable, Flexible and Reliable server across all our products
VPS Hosting Solutions for any business
Wide Range of VPS Options Finding the Right VPS for Your Business is easy
Lightning fast servers starting at $15 per month
Australian based Tier 3 Data Centres with 99.99% Up time SLA
Up to 16% Discount on VPS Plans
Join the 5,000 businesses
that trust Web24 everyday

Choosing the Right Product
We have the right VPS Solution
for your business needs
Cloud VPS
Low cost &
highly scalable
Perfect for light workloads, heavy workloads, development environments & website hosting.
HDD or SSD Storage options.
Add on services available.
See Cloud VPS Plans +
Managed VPS
Top performance &
services levels
High performance servers suitable for heavy applications, e-commerce websites and reseller web hosting.
HDD & SSD Storage options.
Web24 Management Pack included!
See Managed VPS Plans +
VMWare VPS
For the VMware
centric business
VMware is the leading virtualisation or cloud technology for large business or corporate enterprises.
vSphere Access by default!
Add on services available.
See VMWare VPS Plans +
Web24 Difference
Business ready solutions with
robust and reliable foundations
Australian located Tier 3 Data Centres
Certified Secure Data Centres with ISO 27001 Security
Certification
Redundant Networks and Networking Infrastructure
FREE Redundant DNS Hosting with Every Hosting or Server Subscription
Environmentally Friendly Data Centre with ISO 14001 Environmental Management System Accreditation
99.99% Up Time Service Level Agreement
What is a VPS (Virtual Private Server)?
Providing your business server
needs at an affordable price
A Virtual Private Server (VPS) is a virtualised single tenant server solution deployed in a hosted environment as a service.
VPS systems are deployed on shared infrastructure using virtual machine or hypervisor technologies such as Microsoft Hyper-V, Citrix XenServer or VMware vSphere. This shared infrastructure platform that delivers the VPS is also known as a 'Cloud' or 'Public Cloud'.
A VPS is allocated dedicated resources including compute, memory and storage, which can be scaled upward as needed.
A VPS is deployed with its own unique operating system in which super-user (EG: root / administrator) level access is provided to the subscriber. This allows the subscriber to configure any aspect of the operating system or install any compatible applications.
Why get a VPS?
Performance that you can rely on
to manage your business

Dedicated Resources
Get an isolated single tenant environment that has compute, memory and storage resources all to yourself!

Ultimate Access
VPS systems are provide to you with full administrator or root access giving you no limitations on how you configure the server or what you install and serve.

Start Small > Grow Big
The virtualisation technology in VPS systems provide the ability to upgrade resources. This allows you to purchase a VPS plan to meet your budget requirements, then as your business develops the VPS can grow with it.
What are the benefits of a Cloud VPS or Server hosting solution?
Benefits that will drive your business
Focus on your business, not infrastructure
Spend your effort and resources focusing on your business projects instead of worrying about running and maintaining IT systems. Leave that part to us.
Deploy rapidly and on-demand
IT resources are at your fingertips, just a click away. Reduce the time to mobilise IT instead of waiting for procurement, and dramatically increasing agility in your organisation.
An elastic and scalable solution
Cloud computing delivers an elastic and scalable solution, ensuring that your systems can grow with your business. Enjoy seamless upgrades (and downsizing), without the pain of complicated migrations.
Swap upfront investments for variable expense
Don't spend upfront without knowing what resources you'll need. Instead, you only pay for what you use on the cloud.
Eliminate capacity planning
Stop guessing your infrastructure requirements. Resources are only a click away, giving your business an agile position to respond and adapt as needed.
Save with economies of scale
Capture economic benefits and save on IT expenditure and costs by leveraging the economies of scale of our aggregated cloud platform






Digital Marketing
Account Software
Desktop Applications
Disaster Recovery System
Authentication & Policy System
(IE: Domain Controller / Active Directory)
Database Systems
File Storage
And Much More!
Difference between VPS and Dedicated Server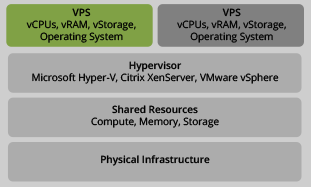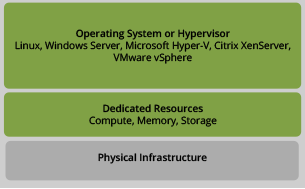 A VPS is deployed onto a shared infrastructure platform, in which multiple VPS systems reside. A Dedicated Server is deployed as a single tenant infrastructure platform, which is completely isolated and dedicated to a single subscriber.
The VPS platform is divided up between a number of VPS systems, which incurs resource contention. It's like an apartment building with shared elevators. Even though you have your own dedicated apartment your elevator trip may be delayed due to the elevator stopping for other apartment owners.
As a VPS uses virtualisation technologies, they can be deployed with lower resources and therefore will have a lower price point. As Dedicated Servers utilise dedicated infrastructure they come with higher resources and therefore will have a higher price point.
Still Not Sure which VPS Product to get?
Our expert will find the VPS Product and Plan that is right for you