MissionCritical VPS
MissionCritical VPS
A highly available VPS platform that has a self-healing fail-over mechanism to provide ultimate uptime, suitable for enterprise workloads and business critical applications or websites.
Join the 5,000 businesses
that trust Web24 everyday

What is MissionCritical VPS?
What is the cost of downtime to your business?If service interruption is a significant impact to your business operations or revenue streams, you need our MissionCritical VPS.
High Availability Windows VPS, Linux VPS, Plesk VPS, WHM and cPanel VPS solutions for business critical website, application or database deployments at an affordable price.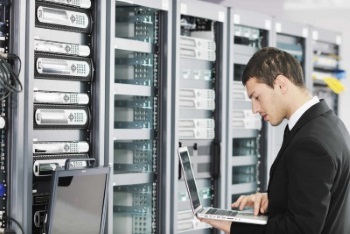 Order MissionCritical VPS
Select MissionCritical VPS Type:
Select MissionCritical VPS Package:

SERVER MONITORING & ALERTING









SERVER MONITORING & ALERTING














Web24 customers currently using MissionCritical and High Availability solutions:

This solution incorporates multiple levels of redundancy to ensure no single point of failure throughout our cloud fabric. To deliver you a Highly Available platform without any single points of failure we combine the following elements:
Network
Multiple telecommunications carriers providing redundant IP transit and routing
Dual Enterprise Firewalls with stateful fail-over for high availability
Network path redundancy via multiple wide area network, local area network and storage area network switches
Compute
A series of processing hosts clustered together to provide a self-healing fail-over facility in the event of hardware failure
Virtual Machines running within the cluster will automatically recover to an alternate host if the primary host is interrupted
Live migration between hosts is available to ensure resources are distributed evenly and allows for maintenance to occur without outage
Storage
Enterprise storage facility deployed using Microsoft Storage Spaces
Distributed storage implementation delivering redundant access and High Availability
A redundant array of independent disks (RAID) is used to mitigate data loss and increase performance throughput
Solid State Drives (SSD) are used to accelerate Input/Output Operations Per Second (IOPS) on the storage stack
Security
Our Distributed Denial of Service (DDoS) mitigation system neutralises the impact of network flood or attacks while allowing your service to continue running
Intrusion Detection systems and Intrusion Prevention systems are deployed alongside the Data Scrubbing mechanism to inspect and filter network traffic to proactively identify and mitigate suspicious network activity.
High Level Cloud Fabric Diagram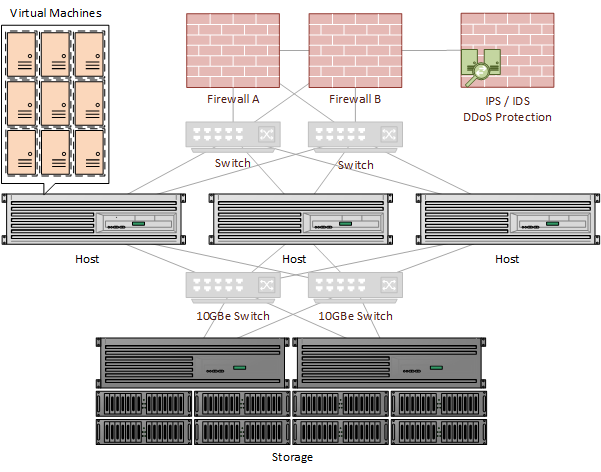 Enjoy affordable VPS hosting from Australia's leading provider
VPS (Virtual Private Server) hosting is a premier cloud service that delivers a tailored solution for individuals and businesses with specific needs. Web24 offers state-of-the-art packages at incredibly cheap prices. That's how we maintain our reputation as one of Australia's leading web hosting companies.
We offer a wide range of VPS hosting solutions to choose from, including:
Linux – Lightweight, easy to use, scalable, powerful and lost-cost hosting solutions can be easily provided on the best-in-class Linux distribution of your choice.
Windows Server – With world-class, enterprise grade security and a complete hosting solution with a familiar interface, it's clear to see why Web24 is Australia's largest cloud hosting provider for Windows.
Plesk Panel – For complete hosting management for website, database and email from small businesses through to enterprise hosting providers, with the versatility of both Linux and Windows, Plesk is the obvious choice.
cPanel and WHM – a fully automated hosting management system, enabling you significant power, control and simplicity when hosting, but with a wide range of plugins to further empower you and your hosting of unlimited domains!
Hyper-V Virtualisation – Web24 hosting is provided on Hyper-V, Microsoft's class-leading virtualisation platform, which has been effective in proving itself time and time again as being a clear pioneer in enterprise cloud hosting.
Enquire with the sales team at Web24 using our online form. Our experienced consultants will work with you to make sure you get the best solution for your needs.

24×7 Support
Around the clock ticket support, business hour phone support, and after hours emergency phone support.

Australian Data Centres
Located in Melbourne's south east suburbs. Multi ISO Certified (ISO27001 / ISO9001 / ISO14001).

Upgradeable Resources
Scalable, upgradeable and flexible… scale up as you grow.