Top 5 Tips for Optimising OpenCart
OpenCart is an extremely popular open source shopping cart system used by thousands of businesses world wide. Order management, payment gateway facilities, multi-currency support and many other features are available along with a vibrant support community willing to help new users.
Here are our top five tips for optimising OpenCart
1. Remove the Product Count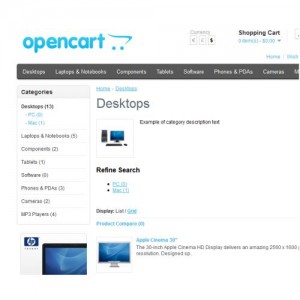 Category types that appear in your site's navigation bar will have a number next to them. This is to highlight the different number of product types that you might have for each category.
As your site increases in size, the product count will ultimately slow down the time it takes to generate your navigation bar and site wide product listings.
Popular extensions such as Category Product Count and Remove Category Count will help to remove this feature and improve your site's performance.

2. Remove any Unnecessary Extensions
Extensions are a powerful way of extending the feature set of OpenCart beyond what it already provides.
Too many extensions, or the use of poorly written extensions however can hinder the performance of your site.
Keep the use of extensions to a minimum, and only use trusted sources such as the OpenCart Extensions Library to read and review third party extensions.
3. Caching Categories
If you have a large number of categories in your OpenCart store then performance will start to suffer.
This is problem is due to the way that OpenCart manages the category cache files whenever you add, edit or delete a category via the admin area.
By default OpenCart will delete cached files after an hour and rebuild them again. If you have several thousand products in your store, then this process of cache rebuilding will take a considerable amount of time.
One way to resolve this issue is to use a category cache extension which will modify the default caching behavior for category generation. The cached files are set to never expire, and they are only rebuilt when you actually edit a particular category.
Category Cache Fix is a popular OpenCart extension for managing the OpenCart category cache.
4. Page Caching
Most modern web sites are dynamic in nature meaning the content of a page is generated on the fly each time a visitor arrives to the site. Material such as products, descriptions and pricing are drawn from the OpenCart database to create the final page your visitor sees.
Page Caching is a service that allows dynamic web page content to stored and generated as static HTML files. The benefit popular pages are retrieved from the page cache and not generated dynamically from the OpenCart database each time a visitor arrives. This provides a dramatic improvement in performance particularly if you have hundreds or thousands of visitors arriving each day.
OpenCart Page Cache is an extension for OpenCart that will help to generate a page cache for your online store.
5. PHP Acceleration
Like many other modern web applications, OpenCart is written in a popular scripting language called PHP.
Web pages written with PHP require the web server to run through the contents of the script and execute it each time it is viewed. With thousands of visitors potentially arriving to your store this process can be a potential bottleneck in your web site's performance.
Like Page Caching, a PHP accelerator such as Alternative PHP Cache (APC), IonCube or XCache will help to reduce server overhead in processing PHP code by caching previous requests and thereby avoid the parsing and compiling of PHP source code each and every time a page is visited.
PHP Acceleration is best utilised within a Virtual Server environment as certain degree of customisation is required to deploy the acceleration service, something that a shared hosting environment typically won't provide you.
6. Choosing the Correct Hosting Package

Regardless of how well your web site is optimised there will come a point where the default resources of a particular hosting plan will not sustain the current levels of visitor traffic. This is a particularly prevalent for ecommerce sites with thousands of products.
As your OpenCart store increases in size and complexity you will need a more responsive hosting solution that can be scaled up to provide more RAM, CPU resources and storage as required. For a growing ecommerce store an Web24 VMware VPS Hosting package will be the best choice for providing a fast and reliable online shopping experience with OpenCart.
To more fully explore all the options that our VMware solutions have to offer please see our VPS Cloud Hosting packages.
Get Started with OpenCart Hosting Today
OpenCart can be installed for free using our 1-Click Script Installer, Installatron.