This article provides some advice on various aspects of WordPress blogging
WordPress is a powerful Content Management System (CMS) which functions as an easy to use personal publishing platform (or "blog"), and it comes with a great set of features designed to make your experience as a publisher on the Internet as easy, pleasant and appealing as possible.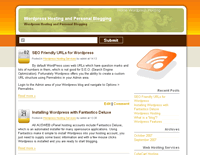 WordPress can easily be installed to your AUSWEB hosting account using Fantastico Deluxe (an automated application installer) in your control panel. With a few mouse clicks you can have WordPress installed and ready to start blogging.
Having WordPress installed in your own hosting account gives you complete control over your weblog. Unlike third-party hosted services, you can be sure of being able to access and modify everything related to your weblog, in case you need to.
To view our WordPress demo site with a custom theme installed, please click on the thumbnail to the right.
Publicizing your blog is easy with WordPress, RSS1 RSS2 and ATOM feeds are fully supported. Just about any page on your weblog has an associated feed that your readers can subscribe to, making it easier for you to spread the word around the world. Inter-blog communication is also supported by WordPress as it comes ready for PingBack and TrackBack, two very useful ways of connecting to other weblogs, and to enable them to do the same.
WordPress uses templates to generate the pages dynamically, so it is very simple to change the look of your blog by installing new templates or modifying existing ones. There are thousands of free themes available for WordPress, simply do a search with your favorite search engine to find one that suits you and install it.
While WordPress is easy to use for the new user, it also contains many features that can be utilized by the experienced user to customize further. Plugins extend the core functionality of your weblog. A large number of user-developed plugins are already available and can be used to do virtually anything you want to, with your blog.
WordPress is the perfect Content Management System for all your blog publishing and website management needs with one of WEB24's cPanel Hosting plans.