Using our Shared SSL Certificates
What is a shared SSL certificate?
A shared SSL certificate is shared among many users rather than specifically used for one domain name. For example, customers who have websites running on our cPanel Shared hosting service are able to access their control panel via a shared SSL connection by visiting:
https://yourdomainname.com/cpanel
This essentially provides the same level of security and encryption as purchasing a dedicated SSL certificate however because it's shared by many users, the URL does not look as professional or unique.
SSL certificate for cPanel
When you try to access your cPanel on our shared web hosting servers, you may be presented with an error page stating:
"This Connection is Untrusted" – in Firefox
"There is a problem with this website's security certificate." – in Internet Explorer
"Safari can't verify the identity of this website." – in Safari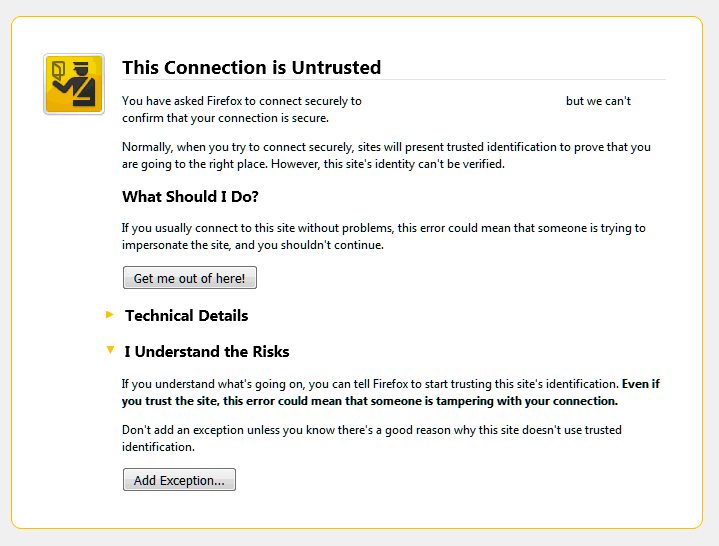 These warnings state that the SSL certificate being used for these particular functions has been generated and self signed by the server. The browser does not authenticate self-signed certificates, as they are not from a known SSL provider such as Verisign.
These warnings are nothing worry about (aside from being a minor nuisance) and you may simply choose the option to continue to the website anyway. You can rest assured that the information being transferred between your computer and the server is still being encrypted using high quality, 256 bit encryption.
To avoid these warnings all browsers provide an option to save certificates from sources that you trust. Please just follow the certificate installation process of your chosen browser. Each browser's installation process is slightly different but a web search should be able to provide you with the required certificate installation instructions for your particular browser.
SSL Certificate for Email
Email software (Outlook, Apple Mail, Thunderbird) will display a warning message when attempting to make an SSL connection to our email service using mail.yourdomain.com as the incoming/outgoing mail server host names. The warning message will say that the server that is being connected to is using a certificate that cannot be verified.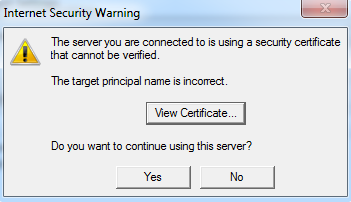 It is completely safe to click [OK] or [Yes] and continue connecting to our mail servers via the encrypted SSL connection despite the warning message.
All our mail servers have a dedicated SSL certificate installed on them. If you want to avoid the above warning message, then instruct your mail software to connect to the name of the server instead of mail.yourdomain.com. This is located in your in your welcome email , titled "New Hosting Account Information".