Preview a Website on a cPanel Server
The cPanel control panel allows you to preview a website using the IP address of the server. This feature is useful to preview the website before changing the DNS records for the domain.
Process
Confirm that the website preview option is not disabled. To confirm this, login to the WHM control panel and go to Home » Security Center » Apache mod_userdir Tweak and confirm that Enablemod_userdirProtection is unchecked. This will enable the preview option for all the domains.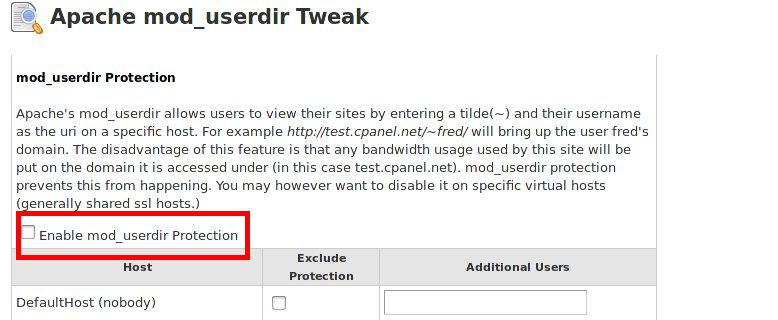 If the Enablemod_userdirProtection option is checked, you can enable the preview feature for a specific domain by excluding it as shown below:
Once you have confirmed that the website preview is enabled for the domain, you can preview the website using following URL:http://1.2.3.4/~username
o   Where 1.2.3.4 is IP address assigned to the domain
o   Username is the cPanel account username
You can find the IP address and username by logging into the WHM control panel and going to : Home » Account Information » List Accounts