Install an SSL Certificate on a cPanel Server
Once an SSL certificate is issued, you can install it on your domain using the WHM control panel installed on your Web24 server.
Note:  For cPanel versions up to 11.38, you will need to assign a dedicated IP address to your website to install an SSL certificate.
From cPanel 11.38+ onwards, SSL certificates can be installed for a websites hosted on a shared IP addresses.
Collect Certificate and Private Key
Login to Web24 control panel by going to http://admin.web24.com.au.
Collect the certificate and the private key by going to Web24 Control Panel > All My SSL Certificates > Certificate Name
Based on the type of certificate you have, you can download the CA bundle certificate using one of the following URLs:
Comodo Essential CA Certificates
Install the SSL Certificate
Login to WHM and navigate to Home > SSL/TLS > Install SSL certificate on a Domain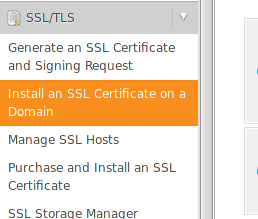 Enter your domain in the Domain field.
When you enter the complete domain name, the Auto fill by Domain option will appear next to the Domain field. Do not click Auto fill by Domain.
Keep the IP Address field blank.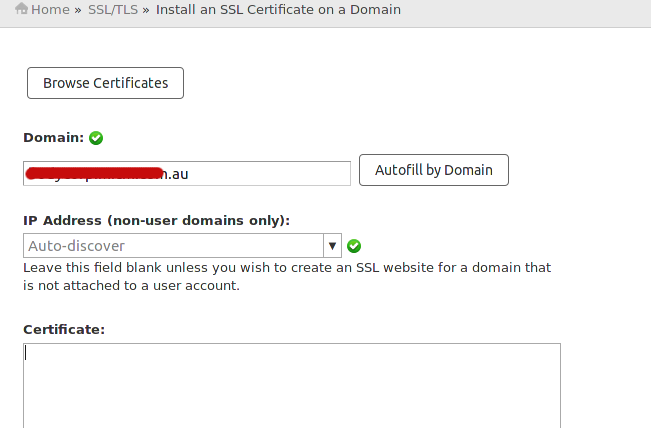 Paste the Certificate, the private Key and the CA Bundle in the text boxes provided.
Click Install.
If the installation is successful, WHM will display a message to indicate that the certificate is installed.
You can verify the SSL certificate installation by entering the domain name in an online SSL checking tool such as http://www.sslshopper.com/ssl-checker.html