How do I become a web hosting reseller?
In general, most hosting providers will not allow customers with shared hosting accounts to resell space. You should check with yours, though; ask support or read through the Terms of Service and other legal agreements.
Reselling is when you give out space to other people for money. If you were to start your own little hosting company on a shared hosting account, that would be defined as reselling.
Most hosting companies would prefer that you upgrade to a designated reseller plan if you'd like to offer other people space. This does give a better experience for your customers, as they too will have their own hosting control panel; you will have essentially given them their very own shared hosting account.
If you want to resell hosting space, you should definitely consider upgrading to a Reseller account.
This is a screenshot of a hosting provider's Acceptable Use Policy. Notice term #11. Particularly this part. "You may not make your account (including but not limited to web space, email accounts, bandwidth, storage space, or reseller rights) available to any third party in any way, including but not limited to the use of Sub Domains, Add-on Domains, Sub Directories, or by any other means."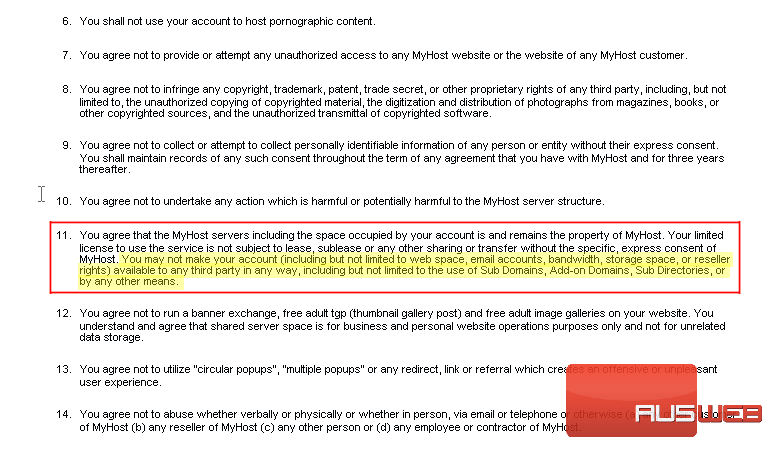 You should look out for similar clauses in your hosting provider's terms.